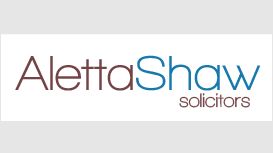 Aletta Shaw Solicitors was established almost two decades ago. Since then we have built our reputation as a firm, due to our friendly, client focused attitude. Our second office in Blackheath is situated in the heart of Blackheath, which is easily accessible from central London, Canary Wharf, Kent, Essex and the South East.
Our approach to legal services is modern and innovative and as a result we obtain consistently good results for our clients. We have embraced the use of technology to speed up and diversify the way we communicate with you. As well as face to face meetings we are able to offer telephone advice and Skype consultations.
Almost all of our fees are at fixed prices so that you know where you are. You will find our staff approachable and sensitive to your needs, whilst robust against the opposition where the need arises.
Reviews and Ratings
I would never have seen my son again if it was not for Aletta Shaw... highly recommended.
The excellent company been using for years. Sue Carey and Efe and great members of staff. All costs were provided upfront so no nasty surprise at the end. Well, don't be Aletta Shaw.