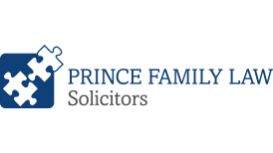 Established in 2005 Prince Family Law was the first boutique family law firm in North Derbyshire and South Yorkshire. We are recognised as one of the leading family law firms in the area.
We offer a free 30 minute consultation for anyone wishing to seek our services. Our excellent team of support staff are always on hand to offer reassurance and liaise with you and the fee earner involved in your case to ensure that at all times you are receiving a first class service at a reasonable price.
---
Services

For adults the breakdown of a relationship is extremely stressful and upsetting. It is even more difficult if there are children involved.
The directors at Prince Family Law, having all been through a divorce themselves, do not underestimate what a difficult time this is both for the adults and the children involved and we seek to ensure that satisfactory arrangements are made which are in the children's best interests. The law governing the arrangements for your children is the Children Act 1989 as amended by the Children and Families Act 2014. The Courts can make the following Orders:-
Parental Responsibility:
Parental responsibility is defined as all the rights and responsibilities that a parent has in relation to their child. Mothers automatically have Parental Responsibility from the birth of their child. Fathers automatically have Parental Responsibility if they were married to the mother at the time of the birth or are named on the child's birth certificate and the child was born after December 2003.
If your child was born before December 2003 and the father is not on the birth certificate then Parental Responsibility can be obtained by agreement with the mother or by Court Order. Whilst Parental Responsibility does not give the non resident parent the right to interfere in the day to day life of their child it does give them authority to be involved in major decisions for example choice of religion, choice of schools, whether the child should travel abroad and the right to consent to medical treatment. If you are unsure as to whether you have parental responsibility you should contact our team to discuss this and we can then guide you as to making the appropriate application if you do not have Parental Responsibility automatically.
Child Arrangements Order:
The arrangements for where your child would live and the time they would spend with the other parent were previously referred to as Residence and Contact Orders. These have now been replaced by a Child Arrangements Order which specifies with whom your child should live and the amount of time they should spend with the non resident parent. A Child Arrangements Order can specify the times and days that your child will spend with the non resident parent, the amount of time that will be spent with that parent during school holidays and whether that includes travel abroad and also the issue of arrangements for handovers.
It is important to remember that the Court will only make Child Arrangements Orders when you are not able to agree on arrangements regarding your children. If you are able to agree then the Court will operate what is called the No Order principle. If you wish to discuss any concerns you have about arrangements already in place or arrangements to be put in place regarding your children please contact Prince Family Law who have extensive experience in this field.
Resolving financial matters is often the most difficult part of your divorce. Consideration has to be given how to provide a home for each of you and your children.
Our team at Prince Family Law have substantial experience and a formidable reputation for achieving the best outcome possible for our clients when dealing with the financial aspects of your marriage breakdown. We consider all of the options available to you, including negotiation, mediation, collaborative law and arbitration. If none of these approaches are suitable and an application has to be made to the Court we will provide strong and confident representation to ensure the best possible financial settlement for you.
Negotiating a financial settlement in divorce can be an extremely complex process dealing with issues such as valuations (of shareholdings, properties, business assets and pensions) or assets acquired from sources outside of the marriage for example inheritance/pre acquired assets and maintenance for both your children and yourself.
At Prince Family Law we recognise that each case is individual and has its own complicating features. We give clear advice as to potential settlements and seek to ensure that a fair outcome is achieved that meets your needs and most importantly the needs of your children.
David Prince is a leading expert in high net asset and complex financial cases regularly dealing with multi million pound divorces which have included complex offshore trusts, multiple businesses, substantial farms, solicitors, accountancy, medical and dentistry practices and entrepreneurs. David is regularly instructed by other lawyers or their spouses.
David has handpicked a team at Prince Family Law that have a wealth of experience in dealing with financial matters who are here to assist and advise you.
Prince Family Law are experts in all fields of financial settlements to include those with an international element. Please contact us, even if you are thinking of separation, to discuss your options and arrange a free half hour consultation.
Reviews and Ratings
We do not have any reviews about Prince Family Law Chesterfield available right now.